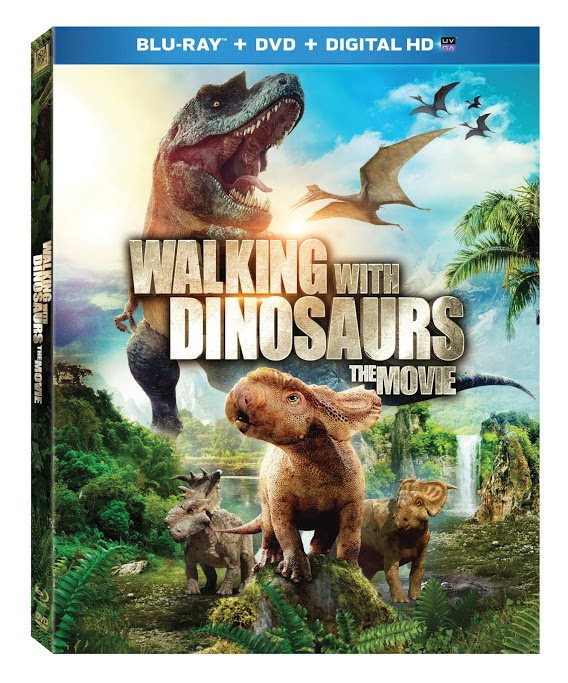 Twentieth Century Fox Home Entertainment and BBC Earth Films invite you to bring home Walking with Dinosaurs The Movie, an awe-inspiring adventure 70 million years in the making, now stomping in just in time for Easter.
Dino fans of all ages will be 'herding" to get their own copy of Walking With Dinosaurs The Movie, releasing on Blu-ray™ and DVD March 25. Hailed by viewers for its explosive visual achievements, Walking With Dinosaurs is "Jurassic Parkmeets The Lion King" (The Today Show) and "…too good a visual treat to miss" (Philadelphia Inquirer).
Experience the spectacular story that brings dinosaurs to life and the viewer back in time. Directed by Barry Cook (Mulan, Arthur Christmas) and Neil Nightingale(Meerkats: The Movie) and the writer behind the hit film Happy Feet, Walking With Dinosaurs The Movie features heart-warming performances from an incredible ensemble of Hollywood's biggest stars including: John Leguizamo (Ice Age, Rio 2), Justin Long (Alvin and the Chipmunks, Dodgeball) and Karl Urban (Star Trek).
My kids haven't seen this yet since the Easter Bunny will be bringing it for them but we all are super excited to watch!
Party of 5 is happy to announce that we are giving away a Blu ray copy of Walking with Dinosaurs!!